Are YOU Ready For an Earthquake?? This Month is the time to Get READY!
You have most likely heard that Utah is active earthquake territory. Utah has experienced earthquakes in the past, and geologic evidence shows a large earthquake is overdue. It's time to get ready!
Large earthquake are possible anywhere in Utah, but they are most likely to happen in belt 100 miles long along the Wasatch Front from Ogden to St. George. That means 90% of us in Utah live in active earthquake zones. Here is an article that explains the probabilities ever further.
We are going to participate as a Mount Mahogany Stake in the Great Utah Shakeout on Thursday, April 18th at 10:15 am. Join us by texting your block captain during the drill!
Info included below is modified from www.EathquakeCountry.org and www.shakeout.org
So what can you do to get prepared? Plan to be safe by creating a disaster plan and deciding how you will communicate in an emergency.
Will everyone in your household do the right thing during the violent shaking of a major earthquake? Before the next earthquake, get together with your family or housemates to plan now what each person will do before, during and after.
Once the earthquake is over, we will have to live with the risk of fire, the potential lack of utilities and basic services, and the certainty of aftershocks. By planning now, you will be ready.
Make sure that your emergency plan includes evacuation and reunion plans; your out-of-state contact person's name and number; the location of your emergency supplies and other pertinent information.
We all must get better prepared for major earthquakes, and practice how to protect ourselves when they happen. The purpose of the ShakeOut is to help us do both. The following video has been created to show what may happen in a Wasatch fault earthquake, and what Utahns can do to reduce losses.
Utah Preparedness Now Video about what can happen before and after an Earthquake
Before the next big earthquake (or other emergency) in your area, do whatever you can to get prepared so you will survive and recover quickly. These four steps each contain a basic set of recommended actions for how to get prepared at home or in the workplace.Many are free or low cost solutions.

Start with Step 1 by securing a potential danger in your home, something that is easy and fast to accomplish. For example, move a heavy object from a high location closer to the floor. This only will take a minute and will prevent the object from falling onto someone or causing damage. You don't need to complete all of the actions in each step before beginning the next.

You can complete one item a day, one a weekend, or one a month. Just remember that earthquakes strike without warning, so you want to get as many completed BEFORE the shaking starts. Soon you will be prepared to survive and recover!
Plan NOW to be safe during an earthquake:
Practice "drop, cover, and hold on." Drop, Cover and Hold On Instructions
Identify safe spots in every room, such as under sturdy desks and tables.
Learn how to protect yourself no matter where you are when an earthquake strikes.
Drop, Cover, and Hold On when the earth shakes.
Taking the proper actions, such as "Drop, Cover, and Hold On", can save lives and reduce the risk
of injury. Everyone, everywhere, should learn and
practice
what to do during an earthquake, whether at home, work, school or traveling.
In MOST situations, you will reduce your chance of injury if you:
DROP where you are, onto your hands and knees. This position protects you from being knocked down and also allows you to stay low and crawl to shelter if nearby.
COVER your head and neck with one arm and hand


If a sturdy table or desk is nearby, crawl underneath it for shelter
If no shelter is nearby, crawl next to an interior wall (away from windows)
Stay on your knees; bend over to protect vital organs

HOLD ON until shaking stops


Under shelter: hold on to it with one hand; be ready to move with your shelter if it shifts
No shelter: hold on to your head and neck with both arms and hands.
Plan NOW to respond after an earthquake:
Keep shoes and a working flashlight next to each bed.
Get a fire extinguisher for your home.
Teach everyone in your household to use emergency whistles and/or to knock three times repeatedly if trapped.
Identify the needs of household members and neighbors with special requirements.
Take a Red Cross first aid and CPR training course.
Know the location of utility shutoffs and keep needed tools nearby. Make sure you know how to turn off the gas, water, and electricity to your home. Only turn off the gas if you smell or hear leaking gas.
Install smoke alarms and test them monthly.
Plan NOW to communicate and recover after an earthquake:
Select a safe place outside of your home to meet your family or housemates after the shaking stops.
Designate an out-of-area contact person who can be called by everyone in the household to relay information.
Provide all family members with a list of important contact phone numbers.
Determine where you might live if your home cannot be occupied after an earthquake or other disaster.
Know about the earthquake plan developed by your children's school or day care.
Keep copies of essential documents, such as identification, insurance policies, and financial records, in a secure, waterproof container, and keep with your disaster supplies kits. Include a household inventory (a list and photos or video of your belongings).
Have occasional earthquake "drills" to practice your plan. Share your plan with people who take care of your children, pets, or home.
Here are some specifics about what to do in certain situations:
Indoors:
Drop, Cover, and Hold On.
Avoid exterior walls, windows, hanging objects, mirrors, tall furniture, large appliances, and kitchen cabinets with heavy objects or glass. However, do not try to move more than 5-7 feet before getting on the ground. Do not go outside during shaking! The area near the exterior walls of a building is the most dangerous place to be. Windows, facades and architectural details are often the first parts of the building to break away.
If seated and unable to drop to the floor
: bend forward,
Cover
your head with your arms, and
Hold On
to your neck with both hands.
In bed:
Do not get out of bed. Lie face down to protect vital organs, and
Cover
your head and neck with a pillow, keeping your arms as close to your head as possible, while you
Hold On
to your head and neck with both hands until shaking stops. You are less likely to be injured by fallen and broken objects by staying where you are.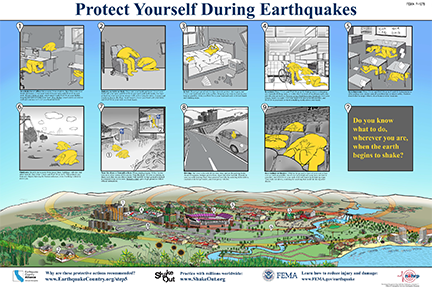 This new FEMA poster depicts how to appropriately respond to an earthquake in a variety of settings.
In a high-rise:
Drop, Cover, and Hold On.
Avoid windows and other hazards. Do not use elevators. Do not be surprised if sprinkler systems or fire alarms activate.
In a classroom
Drop, Cover, and Hold On.
. Students should also be taught what to do at home or other locations.
In a store:
Drop, Cover, and Hold On.
Getting next to a shopping cart, beneath clothing racks, or within the first level of warehouse racks may provide extra protection. For more details, download a simple PDF fact sheet about
Earthquake Safety in Stores
.
Outdoors:
Move to a clear area if you can safely do so; avoid power lines, trees, signs, buildings, vehicles, and other hazards. Then
Drop, Cover, and Hold On.
This protects you from any objects that may be thrown from the side, even if nothing is directly above you.
Driving:
Pull over to the side of the road, stop, and set the parking brake. Avoid overpasses, bridges, power lines, signs and other hazards. Stay inside the vehicle until the shaking stops, then proceed carefully by avoiding fallen debris, cracked or shifted payment, and emergency vehicles. If a power line falls on the car, stay inside until a trained person removes the wire.
In a stadium or theater:
Drop
to the ground in front of your seat or lean over as much as possible, then
Cover
your head with your arms (as best as possible), and
Hold On
to your neck with both hands until shaking stops. Then walk out slowly, watching for anything that could fall during aftershocks.
Near the shore:
Follow instructions above for your particular location. Then as soon as shaking reduces such that you are able to stand, walk quickly to high ground or inland as a tsunami may arrive soon. Don't wait for officials to issue a warning. Walk, rather than drive, to avoid traffic, debris, and other hazards.
Below a dam:
Follow instructions above for your particular location. Dams can fail during a major earthquake. Catastrophic failure is unlikely, but if you live downstream from a dam, you should know flood-zone information and have prepared an evacuation plan for getting to high ground.
Earthquake safety video series
If you ask people what to do in an earthquake, you might hear to stand in a doorway, or go into the "triangle of life". Both of these are outdated recommendations. If you want to know why, keep reading!
WHY RESCUERS AND EXPERTS RECOMMEND DROP, COVER, AND HOLD ON
Trying to move during shaking puts you at risk:
Earthquakes occur without any warning and may be so violent that you cannot run or crawl; you therefore will most likely be knocked to the ground where you happen to be. So it is best to drop before the earthquake drops you, and find nearby shelter or use your arms and hands to protect your head and neck. "Drop, Cover, and Hold On" gives you the best overall chance of quickly protecting yourself during an earthquake… even during quakes that cause furniture to move about rooms, and even in buildings that might ultimately collapse.
The greatest danger is from falling and flying objects:
Studies of injuries and deaths caused by earthquakes over the last several decades show that you are much more likely to be injured by falling or flying objects (TVs, lamps, glass, bookcases, etc.) than to die in a collapsed building. "Drop, Cover, and Hold On" (as described above) will protect you from most of these injuries.
Building collapse is less of a danger
: While images of collapsed structures in earthquakes around the world are frightening and get the most attention from the media, most buildings do not collapse at all, and few completely collapse.
WHAT RESCUERS AND EXPERTS *DO NOT* RECOMMEND YOU DO DURING AN EARTHQUAKE
Based on years of research about how people are injured or killed during earthquakes, and the experiences of U.S. and international search and rescue teams, these three actions are
not
recommended to protect yourself during earthquakes:
DO NOT run outside or to other rooms during shaking:
The area near the exterior walls of a building is the most dangerous place to be. Windows, facades and architectural details are often the first parts of the building to collapse. To stay away from this danger zone, stay inside if you are inside and outside if you are outside. Also, shaking can be so strong that you will not be able to move far without falling down, and objects may fall or be thrown at you that you do not expect. Injuries can be avoided if you drop to the ground before the earthquake drops you.
DO NOT stand in a doorway:
In modern houses, doorways are no stronger than any other part of the house, and the doorway does not protect you from the most likely source of injury- falling or flying objects. You also may not be able to brace yourself in the door during strong shaking. You are safer under a table.
DO NOT get in the "triangle of life":
The "triangle of life" advice (always get next to a table rather than underneath it) is based on several
wrong
assumptions. Drop, Cover and Hold On is best